PASBA 2017 Accounting Firm of the Year
Small Business Accounting Services

Recognized by the Professional Association of Small Business Accountants as the 2017 Accounting Firm of the Year, Snyder & Company has been helping small to medium-sized businesses across Pennsylvania and Delaware succeed since 1982. Other small business accounting firms want you to do all the work, then show up at the end of the year to prepare your tax returns. We want to be your business partner.
With a service area of 50 miles around Wilmington, Delaware, our fully managed accounting services relieve you of as much of the financial and accounting work as possible while providing you the timely financial information and advice you need to manage and grow your business. From payroll preparation and business consulting to tax planning and preparation , we can handle all of your business accounting needs.
Discover how our team of experienced small business accountants can help you realize the dreams you have for your business, your family and your life. Experience the peace of mind that comes from having your own tax and accounting department supporting you while you devote more of your efforts to marketing and running your business.
Book of the Month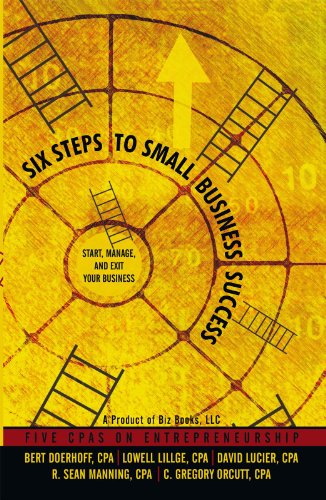 Six Steps To Small Business Success: Start, Manage, and Exit Your Business: 5 CPAs on Entrepreneurship
Bert Doerhoff , Lowell Lillge, David Lucier, C. Gregory Orcutt, R. Sean Manning
There are many important lessons in life that can never be learned in a classroom. In Six Steps to Small Business Success, five seasoned CPAs combine over one hundred years of experience in order to provide practical advice, step-by-step guidance, and proven ideas for entrepreneurs ready to embark on the exciting journey of starting and managing a successful business. The Professional Association of Small Business Accountants has awarded the Book of the Year Award to the authors saying "If our members could communicate all the information in this book to their clients, the clients would not only be more educated on how to start, manage and exit a business, but they would most likely be more successful and have a better opportunity to achieve their business ownership goals". -Tim Nolan, PASBA President "The authors of Six Steps to Small Business Success represent a group of experts worth listening to. More...
Subscribe to Our Newsletter