PASBA 2017 Accounting Firm of the Year
Small Business Accounting Services

Recognized by the Professional Association of Small Business Accountants as the 2017 Accounting Firm of the Year, Snyder & Company has been helping small to medium-sized businesses across Pennsylvania and Delaware succeed since 1982. Other small business accounting firms want you to do all the work, then show up at the end of the year to prepare your tax returns. We want to be your business partner.
With a service area of 50 miles around Wilmington, Delaware, our fully managed accounting services relieve you of as much of the financial and accounting work as possible while providing you the timely financial information and advice you need to manage and grow your business. From payroll preparation and business consulting to tax planning and preparation , we can handle all of your business accounting needs.
Discover how our team of experienced small business accountants can help you realize the dreams you have for your business, your family and your life. Experience the peace of mind that comes from having your own tax and accounting department supporting you while you devote more of your efforts to marketing and running your business.
Book of the Month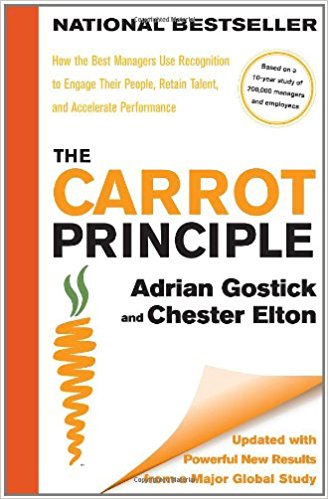 The Carrot Principle
Adrian Gostick And Chester Elton
Stick Management is out. Carrot management is in! The Carrot Principle offers proven strategies to help recognize and motivate your valued employees.

Since its original publication in 2007, the New York Times bestseller The Carrot Principle has received rave reviews in The Wall Street Journal, Fortune, and The New York Times, and has helped a host of managers to energize their teams, and companies to dramatically boost their business results. The book was even adopted by the prestigious FranklinCovey International training and consulting group for its leadership training. This updated edition couldn't come at a better time, as the economic downturn requires us all to come up with creative and cost-effective ways to stimulate growth and productivity.

Revealing the groundbreaking results of one of the most in-depth management studies ever undertaken, The Carrot Principle shows definitively that the central characteristic of the most successful managers is that they provide their employees with frequent and effective recognition. With independent results from HealthStream Research, and analysis by bestselling leadership experts Adrian Gostick and Chester Elton, this breakthrough study of 200,000 people over ten years found dramatically greater business results when managers offered constructive praise and meaningful rewards in ways that powerfully motivated employees to excel. These managers lead with carrots, not sticks, and in doing so achieve higher:

- Productivity

- Engagement

- Retention

In a new chapter, Gostick and Elton report on the results of an extensive study, conducted by leading research authority Towers Perrin, that confirms the extraordinary effectiveness of the Carrot Principle approach all around the globe.

Drawing on case studies from leading companies including Disney, DHL, KPMG, and Pepsi Bottling Group, Gostick and Elton show how the key to recognition done right is combining it with four other core traits of effective leadership. Gostick and Elton walk readers through exactly how to use the simple but powerful methods they have discovered all great managers use to provide their employees with this effective recognition, which can be learned easily and will produce immediate results.

Great recognition can be done in a matter of moments -- and it doesn't take budget-busting amounts of money. Following these simple steps will make you a high-performance leader and take your team to a new level of achievement. More...
Subscribe to Our Newsletter